Tag N Rye
COPYRIGHT INFORMATION

Tag N Rye Dog Services have copyrighted all materials on this Site.

Maureen Byrne of Siddhartha maintains this Site, on behalf of Julie Ann Holmes of Tag N Rye Dog Services, for your personal entertainment, education, information, and communication. Please feel free to browse the Site. You may download material displayed on the Site for personal, non-commercial use only, provided you also retain all copyright and other proprietary notices contained on the materials. You may not, however, modify, distribute, re-use, transmit, re-post, or use the content of the Site for public or commercial purposes, including the text, images, etc., without Tag N Rye giving their written permission.

All materials are provided for non-commercial, personal use only. All rights reserved. The terms and conditions listed below, as well as any other law or regulation that applies to the Site, the Internet or the Worldwide Web, apply to all Site users.

Your access to and use of the Site is also subject to the following terms and conditions and all applicable laws. By accessing and browsing the Site, you accept, without limitation or qualification,
the Terms and Conditions.

Terms and Conditions

You should assume that everything you see or read on the Site is Copyrighted.


Any personal data you transmit to the Site by electronic mail or otherwise, will be used by Tag N Rye. Any other communication or material you transmit to the Site, such as comments, suggestions, questions, or similar, will be treated as non-proprietary and non-confidential.


The images of people or places displayed on the Site are either the property of, or used with permission by, Tag N Rye. The use of these images by you, or anyone else authorized by you, is prohibited. Any unauthorized use of the images may violate copyright laws, trademark laws, the laws of privacy and publicity, and communications regulations and statutes.



Tag N Rye are not responsible for the content or the privacy policies of any off-site pages or any other sites linked to the Site.

Tag N Rye may at any time revise these Terms and Conditions by updating this posting. You are bound by any such revisions and should therefore periodically visit this page to review the current Terms and Conditions to which you are bound.

Tag N Rye thank you for your patience, and your compliance with Copyright laws.

Copyright © 2004-2010 Tag N Rye Dog Services / Siddhartha Ireland.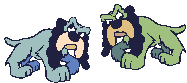 © Tag N Rye Dog Services